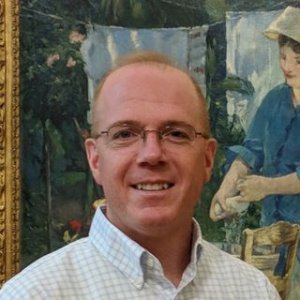 In 2018, Bill attended the graduation of the first cohort of Baker Industries' innovative Job Readiness program. He was deeply impressed by the participant's stories of growth and transformation. Bill says, "Social justice is a historical cornerstone of the Barnes Foundation's mission. When I discovered that art was a part of the Baker program I enquired as to how the Barnes Foundation could participate."
Bill is passionate about providing participants with opportunities they might not otherwise pursue or think open to them. Each year, small groups from Baker meet Bill at the Barnes Foundation for four Tuesday workshops, when the Barnes is closed. Witnessing the participants in the collection for the first time, having it all to themselves, is incredible. Participants return to Baker absolutely glowing from the experience. Bill applauds Baker's dual commitment to opportunity and accountability:

"Baker provides support for their participants but also challenges them to both take responsibility for their future and take risks by stepping out of their comfort zone. Baker invests the time and personal connection needed for real and sustainable change."

All of us at Baker Industries greatly appreciate Bill, the Barnes Foundation, and our other arts partners. We cannot overstate the impact their interest in and commitment to our participants has on their reentry success, which requires not only reentry into the workforce, but into the community.