Kitting is the process of combining multiple SKUs into one package, then creating one new SKU. We build both promotional and product kits to meet every requirement. Services include box building, counting, collating, inserting, organizing, placing, labeling, boxing, bagging, wrapping, sealing, shrink wrapping, and shipping. There is no limit or minimum to the number of items per kit. Recent kitting projects include industrial valves, grinders, lighting components, catalogues, toys, books, snack boxes, gift bags, and healthcare products. We can warehouse items in advance of a delivery date and provide tracking and inventory data to keep your project on track. Our reputation as a non-profit that runs like a business means you can expect excellent quality and service and very competitive pricing. This will save your company time and money.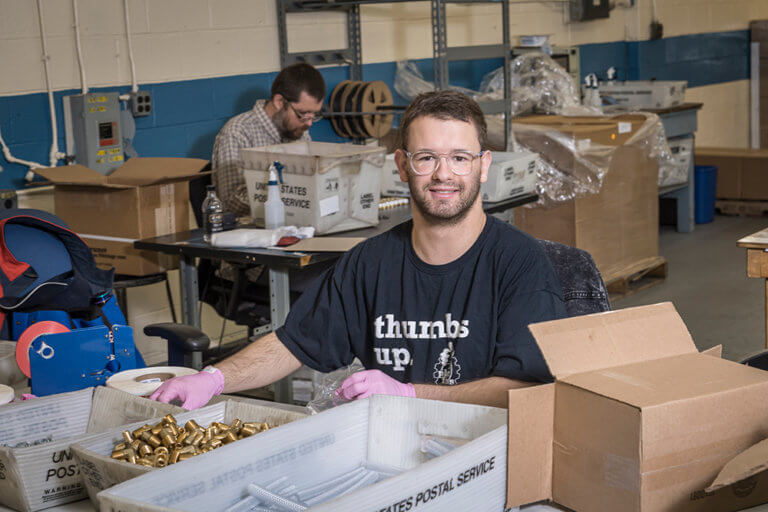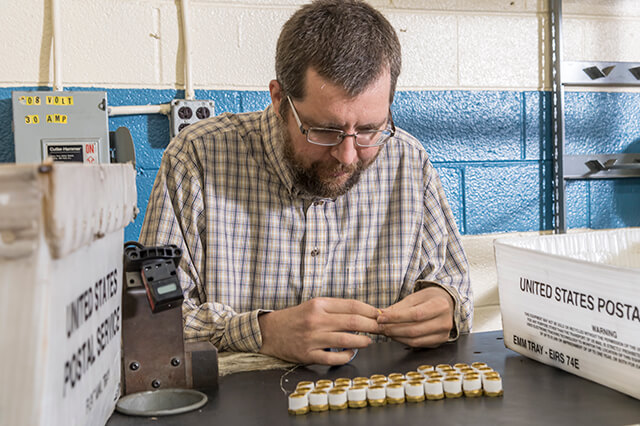 Services
Kitting
Production kitting
Sample kits
Fulfillment
Box building
Sorting, Collating
Packaging
Shrink Wrapping
Labeling / Over-labeling
Counting
Bagging
QC work (quality, printing, lot number, tolerance etc.)
Pick and Pack (short run, under 10 SKU)
Palletizing, LTL, UPS or Fed Ex prep and shipping
40,000 sf of warehouse space available across our two locations
Certified forklift drivers
Our Customers Are Happy Customers
Baker aims to provide the best service for every customer. Here is what one customer has to say about our Kitting/Fulfillment Services:
"The team at Baker offers phenomenal value for the services they provide for our company. From on-boarding to project completion, Baker always delivers a smooth, incredibly flexible, and cost-effective experience. Their quick communications and responsiveness want for nothing, it sometimes feels like they manage our deadlines even better than we do! We're also pleased with the ways their work has measurably improved both customer satisfaction with our product and our bottom line. Overall, great management, quality work, seamless delivery, and worthy mission. We're proud to partner with Baker."
Kelly McCusker
Director of Operations, ProFresh International Corp.
Equipment / Tools
Baldor – Conveyor Belt
FS Curtis 120 Gal. Air Compressor
Zeks Refrigerant Air Dryer
AND – SK-1000 scale (4)
Beseler – L-Bar Sealer (3)
Beseler – Shrink Tunnel (3)
High Temp. Heat Gun (3)
Bostitch Series D80 staple gun
Bostitch SX5035 Series staple gun
Craftfsman 60-Gal Air Compressor
Crimper
Delta Shop Master Table Saw
Delta Model 15 Drill Press
Electric 4.5 Gal Wheeld Protable Compressor
Hyster – Pallet Jack
Hyster 50 – Forklift (2)
Markem-Image Industries| Item A48320 printer
PAC – Strapper (2)
Pitney Bowes – Postage Machine
Pitney Bowes – Postage Scale
RY0B1 PowerDrill Lithium 18v (2)
Smipack – Heat Tunnel (2)
Smipack – L Bar Sealer (2)
Speedaire Dryton Electric MFG. Co. air compressor
Uline – Counting Scale
Uline – Glue Gun (2)
Uline – Impuse Sealer H-306 (2)
Uline – Scale
Uline – Standard Fork Pallet Jack (2)
Uline – 2″ Tape Dispenser
Request a Quote For Kitting / Fulfillment Services