Get Involved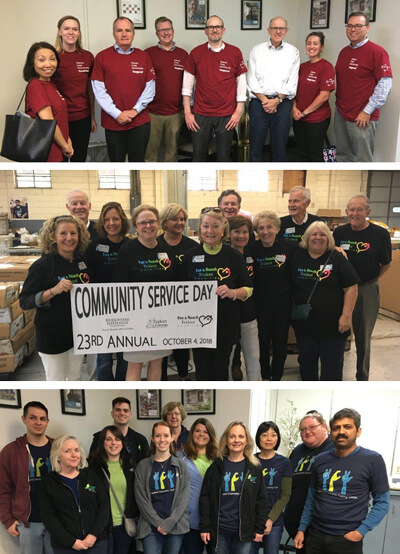 Baker doesn't have to create work for volunteers and interns. With a small staff and an enormous goal, we have lots of tasks that could use your help. But it's not just what you can do for us: it's also what we can do for you! Our participants and their stories of struggle, survival, and success are truly inspirational.
Volunteers are essential for helping us complete work orders and keeping our program running. Beyond the workplace, volunteers are a priceless part of participant development. Volunteers help to build the social skills of participants through conversation, leading to increased confidence and self-esteem for participants. We offer opportunities for student, individual, and corporate volunteers:
Students 16 and older in groups of six or less work alongside our program participants, learning empathy, tolerance, and understanding.
Individual volunteers work alongside our program participants and interact and encourage them as you complete the tasks together. You may come in as often, or as little as needed. You may choose a regular day each week or be "on-call" as we need you. Individuals also assist our participants with resumes, online job applications, and more.
Corporate groups of 12 or less are given our conference room for the day for their use. Beginning with an orientation at 9am, groups move to the production floor to work alongside our program participants. At lunch the group reconvenes and discusses their experiences, and then returns to the work floor until 3pm. The group learns the importance of working together, gains understanding of different work styles and abilities, and sees the reward in completing a job as a team.
Fundraising events are always more effective when there is a healthy exchange of ideas and a committee focused on a common goal. We have a variety of events that need your special touch!