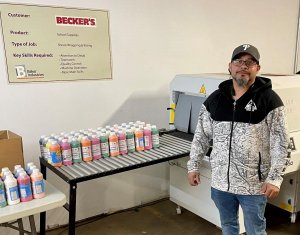 In 2019, Jorge was on house arrest as well as in an outpatient treatment program for substance use disorder. With a lot of prior experience in construction, he wanted to work, but needed to find a place that understood the obligations he had to meet in order to succeed: parole meetings, court appearances, and health appointments. That ruled out regular employers. His parole officer referred him to Baker Industries to see if we could help.
DID YOU KNOW?
Jorge's situation is far from unique. Individuals reentering the community following a prison sentence face a daunting range of hurdles as they address work, family, health, housing, and continuing obligations of the criminal justice system. Meeting parole requirements, paying court fees, settling fines and renewing government IDs are immediate priorities that can interfere with work schedules and employer expectations.
We were able to get Jorge back to work and earning a weekly income immediately while providing the flexibility and support to help him manage his many priorities. At Baker, Jorge's broad skill set allowed him work on a wide variety of jobs including shrink wrapping, warehousing and complex assembly. "I changed and adapted," notes Jorge. With his personal life in balance and a solid Baker work experience as a foundation, Jorge will be starting a new, good paying job in May with a large national employer.