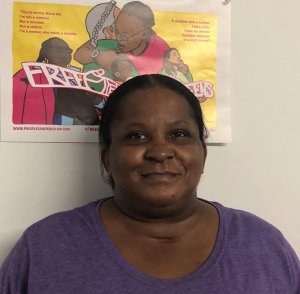 Taminko came to Baker Industries this May after learning about our workforce development program through her roommate, a fellow returning citizen. Taminko quickly showed herself to be a force of strength, positivity, and dedication. She fell in love with how "Baker helps the underdogs." In Taminko's words, "Baker is giving me a second chance where society wouldn't, because of my record. They're helping me better my own life and make a good, honest living – that's what makes me want to stay here."
It's hard to imagine a more positive place to work on the warehouse floor than right next to Taminko. Her warmth and sense of humor radiate to everyone around her. Taminko takes the initiative to learn new jobs and creates new techniques to get the job done quickly and accurately. When a team is slacking, she initiates friendly competition to meet the daily goal.
Baker Industries serves many incredible people like Taminko. And it's incredible people like Taminko that have motivated Baker Industries to keep its own doors open for more than 40 years.