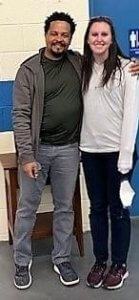 How does a global leader in financial and investment technology platforms make a difference in the communities where they live and work? For SEI Investments, the answer is SEI Cares – an employee-led contribution fund and volunteer organization that channels energy, innovation, and support to local non-profits like Baker Industries. With a large campus in Oaks, PA, SEI is committed to making a difference in the Philadelphia region. Each year, local employees contribute and distribute hundreds of thousands of dollars to partner non-profit organizations of their choosing. As important as financial support are the thousands of volunteer hours delivered by SEI team members throughout the year.
Sarah Barsky and Joel Vivian are SEI co-Champions for Baker Industries – organizing volunteer efforts and championing Baker's mission within the company. For Sarah and Joel, their experience is an opportunity to help those who are underserved. Working side by side with Baker participants, SEI volunteer teams always have an inspiring day. "Everyone is happy to be here!", says Sarah. Asked to describe our work environment in one word, Joel emphatically chose "Family!"
Partners like SEI, who give so much of their time and heart to our program truly are part of the Baker family! Thank you, SEI Cares!