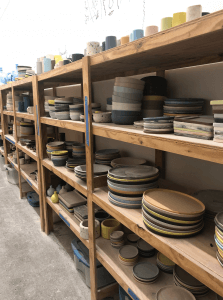 Felt + Fat makes modern ceramic tableware by hand at their studio in Kensington. Founded by Nathaniel Mell in 2014, Felt + Fat has hired two participants from Baker Industries since 2020 and has inquired about a third.
"As a small business owner, I don't have the capacity to vet new hires, so Baker is a great resource for us. Plus, hiring from Baker makes a genuine difference to the Kensington community."
Nate has always been interested in criminal justice reform, so working with Baker Industries was an easy decision. He's happy to be a part of giving people a chance and is inspired by Mike, who was his first hire from Baker. Nate says, "Since being released from prison after 20 years, Mike's lived with family to save money, worked his way from nothing to become a really valued employee here with a great skill set and a rapidly growing wage that's allowed him to buy a car and start saving to buy his first home."
For their part, both Mike and Vic love their jobs and appreciate the opportunity they've been given to be a part of a growing small business – and to be making beautiful tableware for commercial and household use.