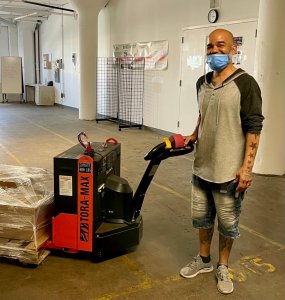 Angel came to Baker seeking two homes. He needed a personal residence beyond the church shelter where he was residing and a work home where he could rebuild his career. Having lost jobs as a machine operator and sanitation worker due to personal challenges and lack of reliable transportation, Angel came to Baker because of the support and understanding we offer adults navigating tough transitions.
Baker assisted Angel in finding an apartment within walking distance and immediately put his skills in shipping and receiving to use in our Kensington warehouse operation. According to Angel, "Everyone here is helpful and supportive – it's fantastic!" For the first time in a long time, Angel is looking forward. He has new goals – acquiring a car and a house where he can host his grandkids.
"On my first day at Baker, people treated me great. They gave me a chance."
– Angel
We're privileged to assist Angel and so many other adults seeking positive change.