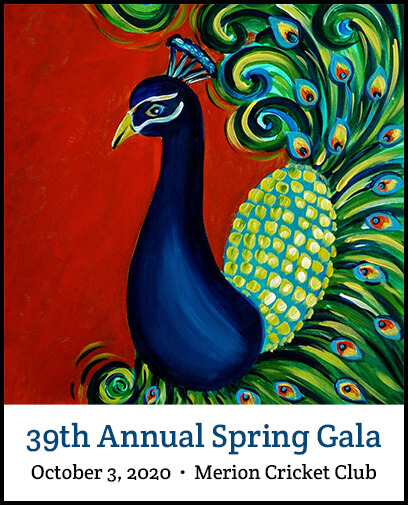 Due to health concerns, we are postponing our gala at the Merion Cricket Club to October 3rd.
We hope to see you then!
Please join us for a very special evening at our 39th Annual Spring Gala on Saturday, October 3 at the beautiful and historic Merion Cricket Club! We'll be honoring devoted supporters, Dr. Vijay & Susan Aggarwal and the Wayne Presbyterian Community.
The Spring Gala is our largest fundraiser and a wonderful opportunity to bring our friends together for a great cause. Each year, Baker Industries changes the lives of hundreds of vulnerable adults in our community, providing paid work, coaching and caring support designed to build skills, confidence and independence. Vijay and Susan believe in the dignity of each member of our community, regardless of their circumstance, and the life-changing power of a good job to change a life. Through their support, and the contributions of so many in the Wayne Presbyterian community, we are able to create hope and opportunity in our poorest communities.
As always, we'll have a great meal, a beautiful setting, a vibrant silent auction and most importantly – the fellowship of kind and caring people like you!
Reserve your place now by purchasing a sponsorship or individual tickets. See details below.
---
Sponsorship Opportunities
Presenting Sponsor
$10,000
VIP Table for 12 in the Ballroom
Opportunity to speak from the podium
Recognition from the podium
Recognition on event signage, website, and media
One full-page program ad
Admission to the private reception immediately preceding the Gala
Platinum Sponsor
$7,500
VIP Table for ten in the Ballroom
Recognition from the podium
Recognition on event signage, website, and media
One full-page program ad
Admission to the private reception immediately preceding the Gala
Gold Sponsor
$5,000
VIP seating for six in the Ballroom
Recognition on event signage, website, and media
One half-page program ad
Admission to the private reception immediately preceding the Gala
Silver Sponsor
$2,500
VIP seating for four in the Ballroom
Recognition on event signage, website, and media
One quarter-page program ad
Admission to the private reception immediately preceding the Gala
Bronze Sponsor
$750
Tickets for two
Recognition in event program
Admission to the private reception immediately preceding the Gala
---